Aluminium High Frequency Resistors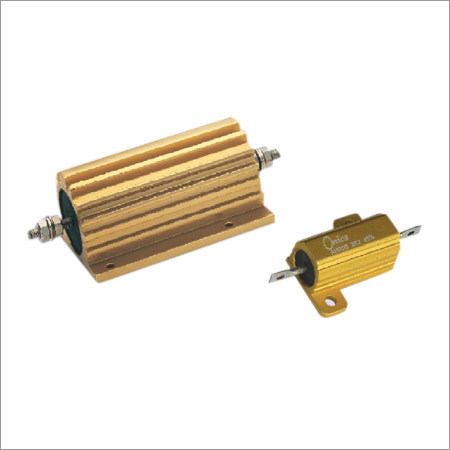 Aluminium High Frequency Resistors
Price And Quantity
Product Specifications
1000 VAC for 5W & 10W

High Prequency Resistors
Medical equipments, Humidity Chambers

5 Watts to 250 Watts Watt (w)
Product Description
Aluminium High Frequency Resistors are wound with Nickel Copper or Nickel Chromium wire for obtaining required resistance on a ceramic core fitted with end caps. The winded assembly is then encapsulated in a anodised Heat sink using high temperature moulding compound.
Features of Aluminium High Frequency Resistors
Low Cost, Light weight &Compact.
Non-inductive Type available.
Custom Values available.

Application
These Resistors are applied where high wattage dissipation is required in a small space. The metal heat sink ensures good heat dispersal & allows a low hot-spot temperature. Major application include Induction furnace, Medical equipments, Humidity Chambers etc.


Technical Specifications
Power Rating: 5 Watts to 250Watts
Terminations: L Screws for 100 - 250W
Temp Coeff: + 50PPMto 200PPM
Tolerance: + 10%, Closer tolerances available.
Dielectric Voltage: 1000 VAC for5W&10W, 1500 VAC for 25W&200W 2000 VAC for 250W
Operating temp: -55oC to 250oC
De ratings: De ratings required for reduced chassis mounted area and for high ambient temperatures.
De rate to zero Power Linearly at 250C ambient.
De rating necessary for unmounted resistors at ambient temperatures of 25C, 5W & 10W - 40%, 25W-50% 50W & above 60%.





DIMENSIONS & RANGE
D i m e n s i o n s i n M . M .
Dimensions M.M.
for Aluminium
Heatsink
Resistance
Range
Watts
A
1.0
B
0.25
C
Max 4.0
D
0.25
E
1.60
F
1.00
G
1.00
H
0.80
l
0.25
J
0.80
K
0.13
L
Max
M
1.60
N
0.50
P
Min
Q
0.13
R
S
T


5
28.6
12.5
2.00
11.3
15.3
6.80
8.50
12.5
-
16.4
2.40
8.20
3.40
1.70
1.60
1.30
100
100
2.0
0.1W-500
10
34.9
15.9
2.40
14.3
19.1
7.90
10.7
15.9
-
20.4
2.40
9.90
4.20
1.90
2.00
2.00
100
100
2.0
0.1W-1K
25
50.0
20.0
4.40
18.3
27.0
11.2
14.0
20.0
-
27.5
3.18
14.0
5.90
1.90
2.00
2.00
150
150
1.5
0.1W-5K
50
71.0
21.4
5.00
39.8
50.0
11.2
16.0
21.4
-
29.0
3.18
15.5
7.90
2.25
2.00
2.00
150
150
3.0
0.1W-10K
100
95.0
37.0
15.0
35.0
65.0
15.0
26.0
37.0
-
47.0
5.00
26.0
11.0
3.50
4.00
-
150
200
3.0
0.1W-20K
150/200
139
57.0
9.50
70.0
89.0
25.0
46.0
57.0
-
73.0
5.00
45.0
20.0
5.00
5.00
-
150
300
3.0
0.1W-35K
250/300
178
63.5
8.00
98.4
115
32.0
54.0
63.5
76.0
76.0
5.00
56.0
25.0
5.00
6.00
-
300
300
3.0
0.1W-50K

R = Length, S = Width, T = Thickness
value & wattages lower & higher than specified available.
Non - inductive type available
Technical specification
| | |
| --- | --- |
| Dielectric Voltage | 1000 VAC for 5W & 10W,1500 VAC for 25 W & 200W,2000 VAC for 250 W |
| Power Rating | 25-600 Watt |
| Operating Temp | -55-250 Degree C |
| Type | AHR |
| Terminations | Lugs for 5-50 W,Screws for 100-250 W |
| Temp Coeff | +- 50 PPM to 200 PPM |
| Overload | 5 x wattage rating for 5 sec. |
| Insulation Resistance | Greater Than 20 M Ohms |
Download Brochure

Trade Information
Yes

Contact us for information regarding our sample policy