Aluminium House Resistor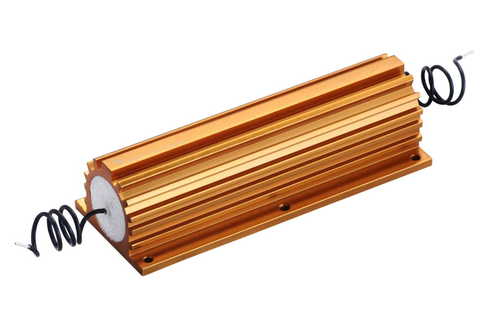 Aluminium House Resistor
Price And Quantity
Piece/Pieces

25.00 - 70.00 INR
Product Description
Aluminium housed Resistor
are wound with Nickel Copper or Nickel Chromium wire for obtaining required resistance on a ceramic core fitted with end caps. The winded assembly is then encapsulated in a anodised Heat sink using high temperature moulding compound.
Features of Aluminium House Resistor
Low Cost, Light weight & Compact.
Non-inductive Type available.
Custom Values available.

APPLICATION

These Resistors are applied where high wattage dissipation is required in a small space. The metal heat sink ensures good heat dispersal & allows a low hot-spot temperature. Major application include Induction furnace, Medical equipments, Humidity Chambers etc.

SPECIFICATION

Power Rating - 5 Watts to 250 Watts
Terminations - Lugs for 5 - 50W , Screws for 100 - 250W
Temp Coeff - 50 PPM to 200 PPM
Tolerance - 10%, Closer tolerances available.
Dielectric Voltage - 1000 VAC for 5W & 10W, 1500 VAC for 25 W & 200W; 2000 VAC for 250 W
Overload - 5 x wattage rating for 5 sec.
Insulation Resistance - > 20 M Ohms
Operating temp. - -55C to 250C
Deratings - Deratings required for reduced chassis mounted area and for high ambient temperatures.